About Telepion application
Telepion is a powerful, flexible, user-friendly bulk SMS and voice marketing application. It enables you to connect a customer to a live agent once the call has been patched up at the customer end. It's also an all-in-one solution for your SMS and voice marketing. It's easy to use and install. You can send voice messages from a text file or a prerecorded file. By adding new contacts to a group, you can start a campaign.
Starting an campaign is as easy as 1-2-3.
Select or Import List Choose your contact list from the built-in CRM or import any .csv file.
Select Message Select a text to speech message or pre-recorded audio file.
Click Start The voice broadcasting will begin to dial your contact list and can make simultaneous calls.
Telepion is a web-based application that allows users to make bulk phone calls to mobile phones using pre-recorded audio messages and bulk SMS. It also allows users to upload their own phone numbers to the system for making calls and sending bulk SMS also. Overall, Telepion is a tool that helps businesses and individuals to automate their phone-based outreach campaigns, saving time and increasing efficiency.
Registration Now
Is Telepion Solution For You ?
Make yourself heard with our voice broadcasting services. Send voice messages in bulk, engage your customers, and optimize your sales – all with a single click.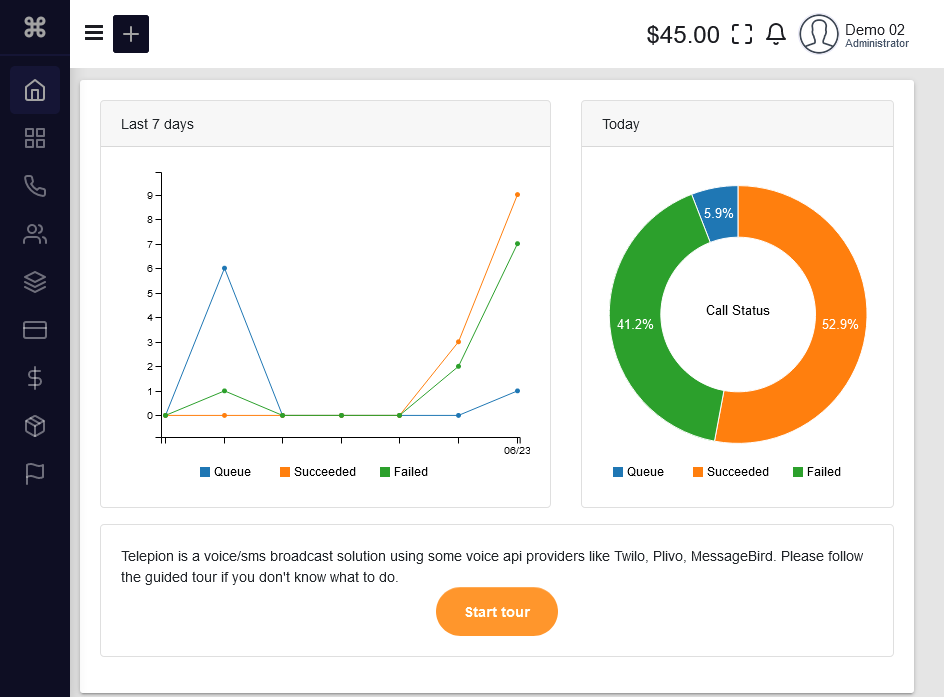 Predictive, Preview, and Progressive Report availble here
With easy-to-use campaign management tools, you can run and manage campaigns, set call duration options, call forwarding options, SMS forwarding options and use different dialing steps including,
Cloud or on-premise solution.
Run simultaneous run voice & SMS campaigns.
Get detailed campaign reports.
Get detailed call and SMS forwarding reports
With automated voice and bulk SMS, you can set up triggers whenever a lead becomes a customer, when a call or SMS recipient opts into your campaign, and much more.
Highlights of Our Service
Enable a cloud-based communication system to reach all your customers in the quickest possible way.
Customizing campaigns to simultaneously monitor and operate multiple broadcasting campaigns as per your business requirements.
KPIs and daily call report track performance, the total number of calls, and customers to make well-informed decisions.
The "Do Not Call" filter allows you to automatically skip numbers that you do not want to call while dialing your list of contacts.
Pricing
Though telemarketing cloud service is much easier to set up and use, there are still reasons to own software. For example, Telemarketing Cloud currently only supports calling phone numbers and SMS-supported countries, so if you plan to call other countries, you should use our on-premise software.
Trial
$0
/ One time
$2 Free credit
Campaign management
Contat management
Voice file Management
24/7 Support
Premium
$19
/ month
$25 credit
Campaign management
Contat management
Voice file Management
24/7 Support
ENTERPRISE
$29
/ month
$35 credit
Campaign management
Contat management
Voice file Management
24/7 Support
Frequently Asked Questions
Telepion – Telemarketing & VoIP Service application is a SaaS-ready script, that allows you to make calls and SMS to your customers to promote your products.